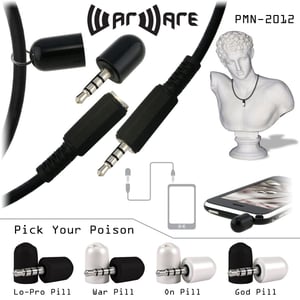 $

14.99
Wear your gear and never forget it at home again. This stylish, surreptitious design can be taken anywhere; concerts, boardrooms, bars, airplanes, etc. Featuring a durable, ultra-compact design, the PMN-2012 will become an essential part of your post-apocalyptic future.
Works with:
iPod touch 2G, 3G, 4G; iPod classic; iPod nano 4G, 5G; iPhone 3G, 3GS, 4 and 4S; and many Android phones
MICROPHONE SPECS
• Power output: 4W
• Speaker impedance in Ohms: 4 ohm
• SNR ≧ 89 DB
• Speaker: D36mm
• Lithium ion battery input: DC 5V
• Dimension: D (52mm x H (-100mm)
• Powered from iPod / Phone battery – no need for external power!
• Tough, extruded polycarbonate shell
EXTENSION CABLE NECKLACE SPECS
• Length: 2 ft.
• 4-conductor /aka 4-pole or 3-ring/ 3.5mm male to female extension
• Silver plated connectors
*Not intended for human consumption.